Team CEC Back in Action for 2011/ CEC Bullrun discount.
Less than 75 days until Bullrun 2011!
The Bullrun 2011 Live Rally is aproaching fast! We're less than 75 days out, and we're confident that this year's Bullrun Live rally will be the best yet! We're really excited about the Southern USA route this year, and though we can't disclose any of the destinations (because that would ruin all the fun,) we promise that it will be one hell of a good time!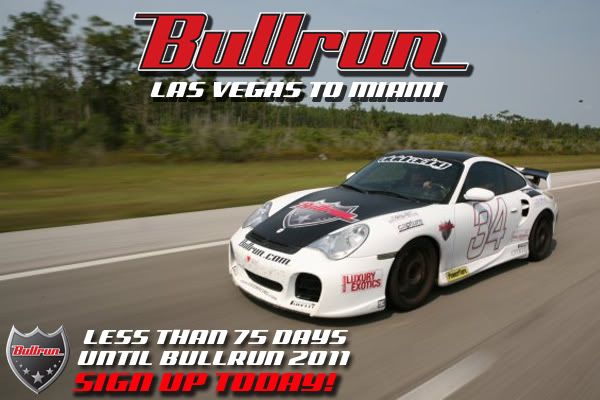 Where: Las Vegas to Miami 
When: July 8th - 15th 2011
More details on the 2011 Bullrun Live rally:  http://bullrun.com/rally2011 
E-mail info@bullrun.com to reserve your spot on the rally.
---

Team CEC back in action!
What would Bullrun be if Team CEC wasn't on the grid? We all know that Claus Ettensberger and Joaquin Mejia are top knotch competitors, and we know that they're hungry for another Bullrun Navigator Award. Last year we saw some very steep competition, and Claus and Joaquin, despite encountering mechanical difficulties at the start of the rally in the form of loose headers, managed to place their CEC tuned Mercedes C63 AMG on the podium - in second place. Claus is the only Bullrunner in our eight year history to place on the podium for four years in a row. It is for this reason that Claus is considered to be one of the best rally drivers out there. Will 2011 see Team CEC back on top? Only time will tell.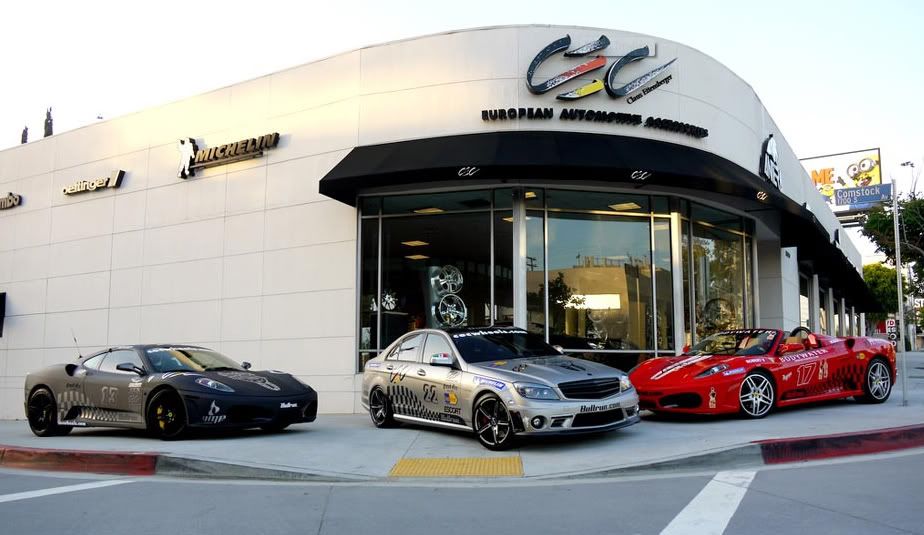 Last year Claus impressed us by showing up to the rally with a very impressive lineup of six cars. This year Claus says they'll be back in full force. Claus and Joaquin will return once again with navigator/ spotter, Todd Kraines, and mascot, Schnell, to try to claim the top spot. Max Caggiano and Co-driver Frank Pasquis will also be returning this year in their EVL tuning Mercedes C63 AMG, but this year thay will be sporting some serious upgrades. Think Nitrous Oxide and a more powerful smoke screen. Bullrun veterain Michael Schwab will also be returning with Team CEC this year in a CEC edition Porsche Panamera Turbo. Newcomer Darrell Jackson will also be joining Team CEC this year in his Mercedes SL55 Brabus K8.
Last year Claus managed to rope in one of his celebrity clients, Ice-T. Along with his wife Coco, Ice-T piloted his Aston Martin V8 Vantage, but suffered two flat tires. "Last year was our learning year and we had some flat tire issues. this year we are serious contenders and want to win," says Ice. Ice T and Coco are planning to participate again this year and have asked Claus to build a special Bullrun vehicle, which will remain top secret until the rally. The only hint Claus gave us was that the car will be all black and very fast.
Claus is also trying to get Robert Valik, known by Bullrunners as 'Eurocruise' because of his striking resemblance to American actor, Tom Cruise, to join the rally once again in his red Ferrari F430 Spider.
In addition to fielding a five car team, CEC Wheels is also returing as a sponsor for the rally. Of course this means that there are some sweet deals for Bullrunners. Since Bullrun is starting in Las Vegas, Claus has kindly offered to service any Bullrun vehicles at his Los Angeles location prior to the rally. 
"Bullrunners will be able to get their cars cars 'dialed in' at my showroom in West LA before they get shipped/driven to Las Vegas," Claus says. "Custom Wrap,  Check/Replace Tires, Service, etc."
Claus knows the importance of making sure your car is Bullrun ready, and with the services that CEC offers, it only makes sense to get your vehicle checked over just to make sure that you don't have any problems.
"We are a distributor/ installer for the latest ESCORT Passport radar detectors, Michelin Tires and 3M custom car wraps and will give a 25% discount on these products for BULLRUNNERS," Claus says. "We are also arranging for a group discount for the transport."
Since the rally ends in Miami this year, Claus will be hosting a post-Bullrun reception at his Showroom in Coral Gables and to also offer for participants to have there cars checked and made ready for transport back home.
"Bullrun is a great opportunity for CEC and our customers to take our vehicles to the ULTIMATE TEST and to enjoy the modification done to these fine automobiles to the FULLEST. Where else can you get a test track that is 3000+ miles long."

-Claus Ettensberger, Owner/ CEO of CEC Wheels