Team JebAng brings 'Godzilla' to the Bullrun!
Become a fan of Bullrun on facebook!
It all began with Jeb's show cars - from an orange accented Acura NSX, an AMG E55 Mercedes Benz VIP-style show-car, a Porsche Boxster S, the first Turbo Lexus IS300 in the East Coast, two E46 M3's, vintage cars like an MG TD, plus a 'rat-rod' Volvo - he decided to work on a Project Ferrari 250 GTO in 2007 that got Bullrun's attention and as fate would have it - winning Bullrun's first ever Ticket To Drive contest in 2007.
They received an official notification from Andy Duncan just 4 days before the start in Montreal to congratulate them on winning the contest. Other Bullrunners had months to prepare for the rally, but Jeb and Angela casually loaded their Project Ferrari GTO on a trailer, drove 12 hours to the Canadian border and was on the starting grid all the way to the finish-line in Key West, Florida. Their daily blog on CarDomain.com was followed by thousands around the world. You can read the CarDomain 2007 blog
here!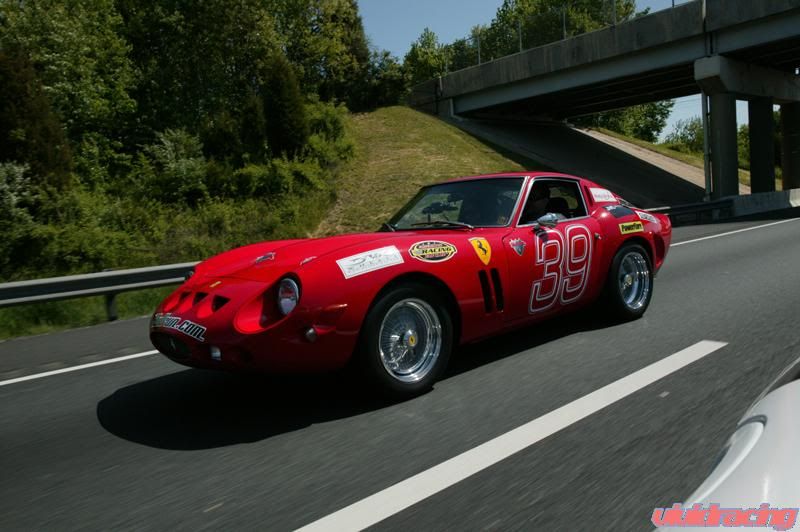 Not only did Jeb and Angela make it through the rally without any tickets, but they showed everyone what true Bullrunners they were. They drove hard by day, and partied hard by night – the perfect Bullrun combination!
On the Rally, Jeb and Angela like to party with the usual 'suspects' but they especially love the Bullrun Staff. "They party harder than the Bullrunners!" says Angela. Team JebAng has also been known to lend a helping hand. When Team Wu's Hummer broke a seal in 2008, team JebAng came to the rescue. "More like hauled Wu's 15 luggage bags in our Jeep!" says Jeb. Another time, when Rachel Deadman's Lamborghini had battery problems, JebAng gladly lent their tools and Vinny Russo from Team Spyker was able to jump start the Lambo. In 2007, when Michael Schwab got a flat tire in his F430, Jeb gave his tire seal so that the Ferrari could limp to the Atlantic City hotel. "Bullrun is not just a competition, it's in the spirit of camaraderie," says Angela.
A very memorable Team JebAng moment occurred at a Go-Kart track in Orlando Florida on day six of the 2007 rally. After completing only one lap of the track, Angela dove off the track and through the open gates out onto the road. She pulled up right in front of Club Firestone where the Bullrunners would party it up all night long with Richard Rawlings in a second Go-Kart behind her. The rest of the Bullrun posse were shocked that Angela managed to get away with the fiasco without incident. It was later revealed that she had orchestrated the event with the approval of the Go-Kart track owners and the local police.
Upon returning home from their first Bullrun rally, Jeb and Angela immediately purchased their 2008 Bullrun ride - affectionately known as 'the beast!' Finishing in the top ten on any leg of the Bullrun is a very impressive feat, but Team JebAng managed to come in first place on the fifth leg of the 2008 Bullrun rally from Los Angeles, CA to Tucson, AZ. It's no surprise that Team JabAng managed to achieve this feat because they were driving the 420HP, 180MPH capable Jeep Grand Cherokee SRT-8!
However – driving such a beast can sometimes get you into trouble. As Jeb and Angela traveled through Montana on the first leg of the rally, they were pulled over by a police officer who was very excited to see the Bullrun coming through his home town. Luckily this police officer had a sense of humor and wasn't in the mood for arresting Bullruners. Instead, he posed for some photos!
2009 was another milestone year for team JebAng! They welcomed their beautiful daughter; Gianna, to the world. Jeb was ready to head out to New York City in his C5 Corvette Z06 for the 20009 rally - but Gianna decided that her Birthday would be mid-week of the rally, so plans changed. Angela adds, "Gianna is already 'car-crazy' at an early age. Every time she hears the sound of a car, she gets excited and screams. She will literally stop what she is doing when she hears a car engine approaching. Daddy's girl, for sure."
JebAng! also likes to give back. Jeb works for a non-profit agency helping People with Significant Disabilities find employment. "It feels good to give back to society. You'd be amazed at the quality of goods and services that People With Significant Disabilities can accomplish. They are SO CAPABLE of EVERYTHING that ordinary people are capable of," says Jeb.
With the 2007 and 2008 rallies behind them, Jeb and Angela decided that it was time to bring something BIG to the table for 2010 - a true monster! This year their car of choice is a Japanese Supercar that many thousands lovingly refer to as 'Godzilla!' Behold, the 2010 Nissan GT-R that Jeb and Angela will be piloting to victory on their third Bullrun rally!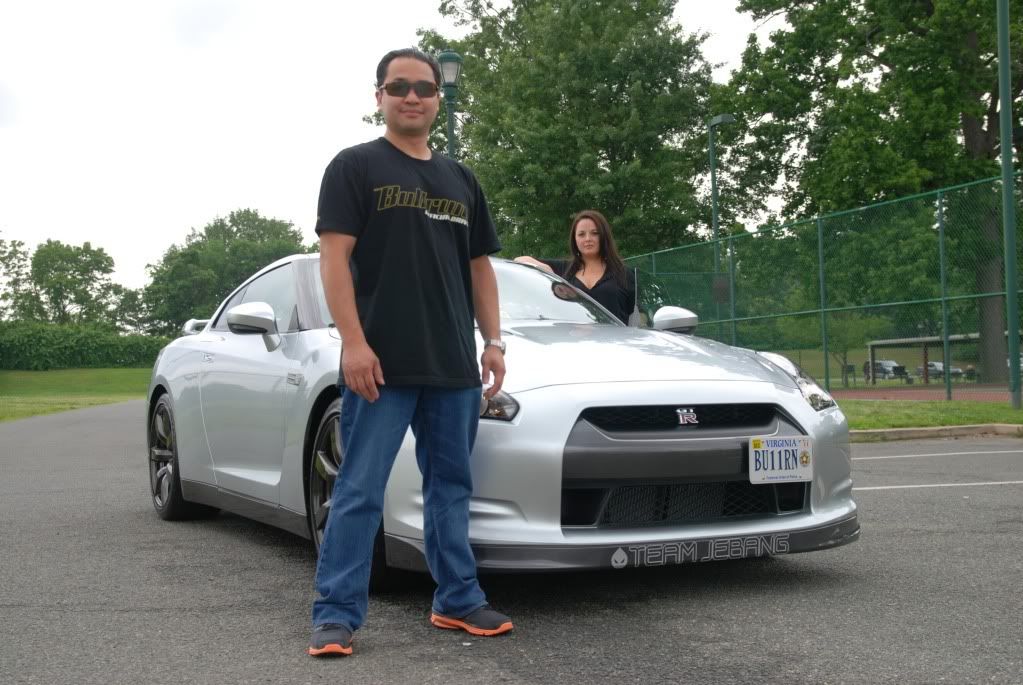 Rumour has it that Jeb and Angela might make a pit-stop back at home in Virginia to pick up their little Bullrunner-in-training; Gianna, to do a leg of the rally! That would be a Bullrun first! Now imagine what it would be like if Jeb and Angela made it on the Bullrun reality show - and had a baby in tow! Now, that would be something else!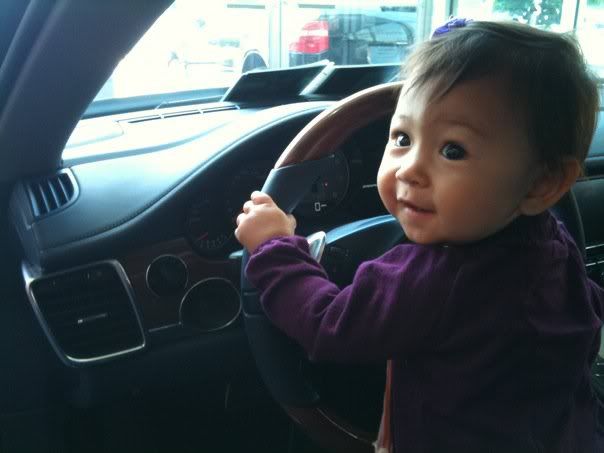 Just like the Big Bang Theory where the universe was created with a loud "Bang!" be sure to watch Bullrun's Competition Couple
JebAng!
as they are sure to create an impact everywhere they go!
Q&A with Jeb and Angela:
1) Jeb and Angela, since this is your third Bullrun rally, you basically know what to expect, but what are you looking forward to the most this year?
Seeing and hanging out with old Bullrun friends and making new ones. We are eager to drive our new 2010 GT-R and look forward to a much anticipated adrenaline-filled launch party and send-off at the heart of New York City! We are also raising awareness for
www.thinkbeyondthelabel.com
– People With Significant Disabilities are capable of anything – so change your perception!
2) If you could say you learned one thing from rallies past, what would it be?
Just be yourself, love the drive and speed in moderation. Take your other half with you and if both of you are still sane after 7 days - you are in it for the long run and the relationship will last!
3) You won the 'Ticket to Drive' Contest back in 2007 for a chance to win a free spot on the rally. What made you want to do the Bullrun rally in 2007?
We could not pass up a chance to have a once in a lifetime experience at the most glamorous and best organized automobile road rally in the world! Bullrun is worth every speeding ticket we got!
4) What brought you back for 2008 and now 2010?
Bullrun is addictive! Once you get a taste of it, you don't want to miss it at all. We got so hooked with Bullrun and everything that it represents – a once in a lifetime experience – that we wanted to relive it again in 2008 in a Jeep SRT. It was roomy, powerful and comfortable. The Rally is like an annual Family Reunion. We would have gone in 2009 in our C5 Z06 but instead - welcomed our newest Bullrunner to the family – our daughter, Gianna and boy oh boy! She LOVES cars too! If Bullrun is around in the next 18 years, we can guarantee that Gianna will be rallying!
5) What is your absolute favorite Bullrun moment?
Receiving an email from Andy Duncan 3 days before the start of the 2007 Bullrun Rally in Montreal saying that he was "Sorry"…and the next paragraph was "but you've won the Ticket To Drive contest". We had 3 days to get everything ready and after a straight 12-hour drive towing our Ferrari GTO project car, we made it to Montreal, Canada. In fact, we blogged for 7 days straight for CarDomain and made it all the way to Key West with no issues!
The Montreal launch was surreal. We've watched other car rallies on Video and wished that someday we would get a chance to be part of a rally. The Montreal start had so much energy that it was truly a once in a lifetime experience! A positive memory Angela and I cherish.
6) What is your car of choice for your third Bullrun rally?
It's here… it has arrived stateside! ゴジラ Gojira!!! We raised the bar and wanted a modern exotic. We are proud owners of a 2010 Nissan GT-R. "Godzilla" will be in the Rally!
7) What makes it the ideal rally vehicle?
The GT-R is the ultimate sports car and a technical marvel. We can comfortably tuck a baby seat and a child in the back for quick family jaunts. It's effortlessly fast, can be driven daily, practical, and is limited in Production making it a very sought after modern exotic. "It's flashy yet not too flashy for Mr. Officer." The R35 GT-R is an all wheel drive, 3.8L VR38DETT twin-turbo V6 that produces 480 HP, 433 pound-feet of torque, 11.7 seconds in the quarter mile, 192 mph top speed, 7:29 in the Nurburgring, a 0.99 lateral G and sips gas compared to other exotics – average 21MPG! The GT-R is the ultimate automotive touring and road rally vehicle!
8) What would you say is your team's strongest asset?
Being down-to-earth, candid and friendly. We are your regular everyday family; your next-door neighbour couple. Andy said of us in 2007: "Bullrun's Competition Couple!"
9) Are you planning on gunning for the First Place Navigator Award this year, or are you taking a laid-back approach to the rally?
JebAng! always takes a relaxed and laid back Bullrun approach – stress-free. Other Bullrunners seriously approach this as the 'Olympics' of Rallying. We generally let the lead pack get pulled over first and make all the mistakes. Our strategy has always paid off - we somehow end up being in the top 10 to arrive at every checkpoint. This year, Angela is the lead driver and Jeb is the Navigator. 'Ang' can tame 'Godzilla" real well, so don't be surprised if we come in first like we did on one leg in 2008.
10) Out of all the Bullrunners, which team would you take the most satisfaction in beating to a checkpoint?
In 2008, we were the first team to reach the checkpoint in Arizona beating Wu, Claus, Rawlings, and others – including the Bullrun trailer! Thanks to Kiran who piloted our 'burly' Jeep SRT-8 - Angela navigated and I was the lookout, it was a great feeling to take first place without any drama – no tickets nor breakdowns. Andy should award a "yellow jersey' of some sort like the Tour De France for first place leg winners.
11) Other than yourselves of course, which Bullrun team is your favorite, why?
The 'usual troublemakers' are our favourites – Wu, Claus & Joaquin, Rawlings, Twins, Vivid Racing, Alsops, Riecke, Agent R8, Team Darkcyd, Team Oh! Canada, Rich Brannon from Season 1, Lamont Reeves, superstar Kristine Elezaj, Marash Elezaj, Team Safety Car, Mr. Angry, Team Spyker, West Coast Customs, all the Reality TV stars, esp. the Bullrun Fans + forum members. It's ALL of them! But deep down, our favourites are the BULLRUN STAFF, GIANT FILM&TV Production crew and the living legend – "The one, the only…the MACHINE". Who is "The Machine"? Find out for yourself! Ok. Ok. We like Andy and David too!
12) Having done the Bullrun rally before, what will your rally preparation comprise of? Will you be going all out? Or will you stick to simple navigation and a radar detector?
Rallying is both mind and machine. We prepare 2 weeks prior to the Rally by trying not to go to the Bathroom for 6-hours straight. Also, when we gas up, someone pumps and someone either takes a bio break or rushes to get snacks. We continuously plan during a destination to find the fastest routes using our 3G wireless connection, and calling other Bullrunners on the road. We listen to two scanner apps on our iPhones, keep a lookout ahead with binoculars, provide Facebook and Twitter updates and most importantly have our double shot espresso drinks to keep us awake! Our GT-R is not only equipped with a Command Center designed by Sony/Polyphonic Studios—The Company that designed the Gran Turismo games that has all the technology wizardry – we wanted to keep it simple in the cockpit. In the vehicle, we have a tuned Midland CB Radio with Antenna, a Verizon Wireless USB760 Modem connected to a Macbook, Valentine 1 Radar Detector, an additional Garmin Nuvi, Portable EMT lights, at the time of this article being published, we are configuring a Laser Jammer/Blinder system, and installed a GT-R Navigation in-motion switch from
http://www.specialized-performance.com/
Now, if we could only borrow Andre Betz's, (AgentR8) special weapon that was mounted on his R8…
13) What is your absolute favourite aspect of Bullrun?
Bullrun is an automotive lifestyle - unique, glamorous, and exclusive; a bunch of type A+ personalities and you get to drive the most beautiful, unexpected roads in the USA! A car aficionado's driving pleasure! Bullrun should be in your Top 10 "to do" list before you die.
14) If you could use one word or phrase to describe Bullrun, what would it be?
"JFWER976M#*WA43LFMR*YJH11NN@!!!" – Webster's Dictionary hasn't invented it yet.
"Bullrun: organized chaos defined."
MABUHAY! and Viva La Bullrun!